Step
Aside,
Son
Fight the effects of aging
with NEW Hill's® Science Diet® Youthful Vitality.
Fight the Effects of Aging
NEW breakthrough nutrition scientifically developed to help support your dog's ongoing vitality through increased activity, interaction and mobility.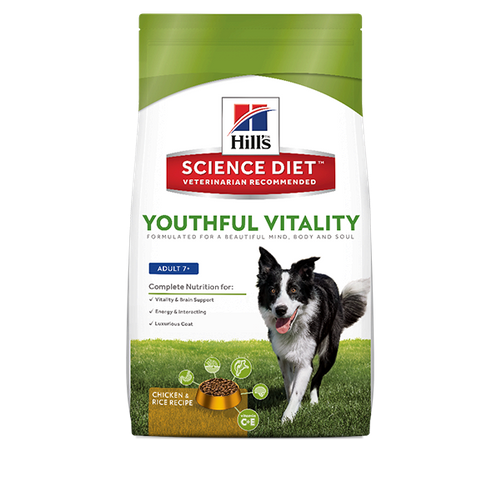 Formulated with ingredients to help support:

Brain Function
Powerful antioxidants for a healthy brain to support desire for family interaction


Energy and Vitality

Protein, phytonutrients and L-carnitine support ability to get moving, plus interest in activity and playing


Healthy Immune System

Vitamins C & E help bolster a strong immune system

Healthy Digestive System

High quality, easy-to-digest ingredients with great taste

Luxurious Coat

Essential fatty acids promote a coat with increased shininess and softness

WATCH FOR THE
TELL TAILS


SIGNS OF AGING
Just like with people, age can creep up slowly on your dog, and you might not realize
your furry friend is starting to display some age-related changes. If you've noticed
any of these signs, it might be time to change your dog's food or talk to your vet.

T
Thinking
Your pet is now confused by ordinary things, like how to find their bed

A
Activity
Naps have become more appealing than playing or exploring

I
Interactions
Your pet doesn't socialize with you as much as before

L
Loss of control
Your pet is well-trained, but has started having accidents

S
Sleep-wake cycle

Sleeping patterns have changed, with more awake time during the night

THESE 7+ PETS ARE STILL
#AwesomeAsEver
Maybe you've been together since they were a puppy or kitten. Or perhaps it just
feels like the two of you have known each other forever. Either way, we want to see
how you and your pet keep the connection you share going strong.
I tried the sample on Lucy. She loved the food and after four weeks I noticed she was more active and more willing to play.


- Almys, Greenfield, MA, United States


Hill's Science Feline Adult 7 + Chicken Recipe (XP850017) I have 2 cats and they both fell in love with this dry food. They don't eat wet food aat all and really enjoyed this selection. For me it was important to see the first ingredient was really chicken and not a filler.


- RonK, Chicago, IL, United States


The transition to this food was very easy. Jasper eats it very well. The thinner discs are easy for him to chew and I think he's enjoyed the change of pace.


- Slawzer504, New Orleans, LA, United States


Learn where your dog's bad dog behavior comes from, as well as advice on dealing with it it and training tips to help him to overcome common issues.

Learn the meanings behind quirky & strange dog behaviors, such as why he tilts his head, why he chases his tail and why he scoots across your carpet.

Learn the reasons why puppies bark and whine, and how you can train them to stop the unnecessary barking.

Learn how to manage a male puppy when he is around female dogs when he reaches sexual maturity.

If your female puppy hasn't been spayed, you may notice some changes in her when she comes in season. Learn the signs that she is in season.

Understand what it means for your female dog to be in heat and what you can do to provide her with the best care.