How Treat-Dispensing Toys Keep Your Cat Active
Find food that fits your pet's needs
Find a dog food that fits your pet's needs
Find a cat food that fits your pet's needs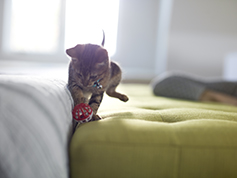 Are you looking to get your cat more active? Does she constantly look bored? Then you may want to consider using a food-dispensing (also known as treat-dispensing) cat toy, which provides both physical and mental stimulation during snack times. In fact, according to the UC Davis School of Veterinary Medicine, "self-play toys are especially good for cats who are left home alone while people are away." Before you go out and buy a food-dispensing cat toy, however, consider the following.
1. Food-Dispensing Cat Toys Should be Durable
The durability of your cat's food-dispensing toy is of utmost importance. Look for one that can withstand your cat's repeated punishment, and if the rough play becomes so intense that your cat is at risk of injury, take the toy away from her.
2. Food-Dispensing Cat Toys Should be Easy to Clean
There are enough things to clean around your home. Save yourself the trouble and choose a food-dispensing cat toy that is easy to clean. Bear in mind that some styles of food-dispensing cat toys are easier to clean than others.
For the complete slideshow on 5 Must-Read Tips Before Buying a Food-Dispensing Cat Toy, visit petMD.