Food & Portion Tips to Avoid Overfeeding Your Cat
Battling the Bulge
Obesity is a growing problem in our feline population. In fact, over 50% of cats seen by veterinarians are judged to be either overweight or obese. However, with the proper cat food, feeding schedule and exercise regimen, this does not have to be so for your cat. Here are a few ways to begin.
Choose the Best Cat Food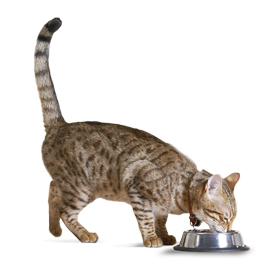 Many factors need to be taken into account when choosing the proper food for your cat. It is important that the cat food you choose be balanced and complete. It is also best to choose a food that is designed for your cat's life stage. For instance, kittens do better when fed a "kitten food" formulated for growth. Older cats may have slower metabolism and may do better on a senior food, which contains fewer calories but still supplies the right level of nutrients. When in doubt, consult your veterinarian for a recommendation.
Measure the Meals
Feeding your cat free choice can be problematic, especially if your cat has a tendency to overeat. Cats fed two to three smaller, measured meals daily tend to maintain their weight better than those fed free choice. Refer to the guidelines provided on the food level and measure your cat's food accurately. One cup is 8 ounces and refers to a level cup of food (as opposed to a heaping cup.)
Adjust According to Your Cat's Needs
Remember that the guidelines provided on a pet food label are guidelines only and may need to be adjusted based on your individual cat's body condition and activity level. Learn to evaluate your cat's body condition. Doing so will allow you to determine whether your cat is overweight, underweight or at an ideal body weight, which in turn will help you determine the proper amount of food to be given daily.
For the complete slideshow on cat overfeeding, visit petMD!